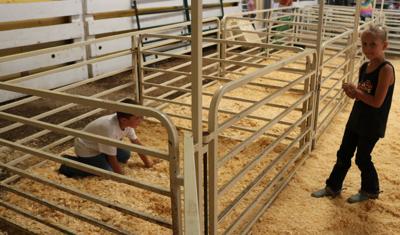 Members of Dawes County 4-H will become the teachers during the fair, providing education and answering questions about their projects during two education hours at the Dawes County Fair.
The education hours will give 4-H members an opportunity to interact with the public and younger 4-H members, sharing their experiences and knowledge and answering questions about the care of their animals.
This year's education hours will focus on small animals from 5:30-6:30 p.m. July 30 and on sheep, goats and bucket calves from 5:30-6:30 p.m. Aug. 1.
The events are modeled after education hours that take place at the Nebraska State Fair and are scheduled to take place in Earl's Park.
The Dawes County Fair will also feature a silent auction of cakes and pies prepared by 4-Hers July 29 from 5-7 p.m. at the 4-H Building. Proceeds will go back to the 4-H members to help defray the costs of their projects.
For the fifth year, the Dawes County Fair will feature a Fun with 4-H! event. Scheduled for July 31 from 12:30-2:30 p.m. at Earl's Park, the event will offer hands-on activities exploring different 4-H curriculum, including science and technology, outdoor education and healthy lifestyles.
For those of all ages not involved in 4-H, but who still want to enter fair competitions, open class exhibits can be checked-in at the Dixie Eaton Building July 26 from 8 a.m. – 1 p.m. (judging starts at 2 p.m.)
["source=rapidcityjournal"]