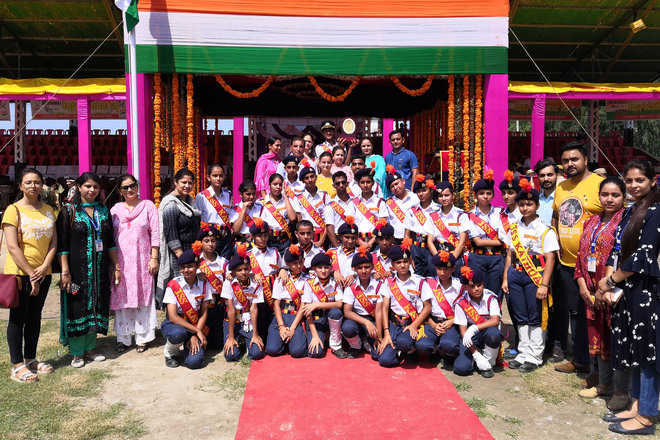 Jammu:
Various educational institutions celebrated the 73rd Independence Day with patriotic fervour and zeal.
Prof Ashok Aima, Vice Chancellor, Central University of Jammu (CUJ), hoisted the National Flag on the university's Rahya Campus. Earlier, the guard of honour was presented by the Jammu University security guards.
The Vice Chancellor spoke about the spirit of nationalism, integrity, peace and brotherhood. He asserted that educational institutions, particularly universities, have a larger role in shaping the future generations for a progressive nation.
Dogra Group of Colleges celebrated the day with zeal on its Bari Brahmana campus where Samar Dev Singh Charak, Secretary, Dogra Educational Trust, hoisted the National Flag, followed by a rendition of the National Anthem.
Delhi Public School, Nagbani, celebrated Independence Day with enthusiasm. The celebrations began with the unfurling of the Tricolour by principal RK Verma.
To mark the occasion, 20 students of Army Public School, Damana, accompanied by Principal Pushpinder Kaur and two teachers, visited ASHA Special School, Jammu Cantt, wherein they motivated and uplifted the spirit of the students of the special school and felicitated them with a computer.
Principal Pushpinder Kaur motivated the students by reminding them of the sacrifices made by our brave soldiers and freedom fighters. Besides this, an intra class fancy dress competition was held for classes I and II on the theme 'patriotism', wherein the tiny tots came dressed majestically and looking vibrant.
The students of Army Public School, Udhampur, presented a cultural show encompassing patriotic songs, poems etc, reminding the audience of the people who sacrificed their lives for the nation's independence.
Chairman, principal, vice principal and the teachers of the school extended greetings to students. Principal Sanjeev Kumar asked students to value the nation's independence and serve the nation by doing their respective jobs sincerely.
Meanwhile, Jammu Sanskriti School, Kathua, won the third prize in march past at the district Independence Day function. As many as 32 schools participated in the event at the Parade stadium.
["source=tribuneindia"]